I don't divide architecture,
landscape and gardening; to me they are one

– Luis Barragan –
Hello.. My name is Nelza, I am a Landscape Architect and a mother of my little girl named Emillie. This thing inspired me to make a green living studio named Emillie Garden.
Emillie Garden (EG) was began from a small home studio in early 2016. This studio was started when I became fulltime mother. Previously, I worked in a media Company for about 6 years, which was in Women Lifestyle Magazine (Instyle Magazine & Kawanku Magazine) and Architecture Magazine (Idea Magazine & Home Garden Magazine). Currently, other than working on Emillie Garden, I am also working as a lecturer of green tourism course & entrepreneur course. Through EG, I have a dream to popularize green living as a lifestyle at any age level.
EG started to contribute on the green living by providing landscape design & build services. On its way, EG design process began to change when the issue of environmental problems and limitations of green land in the city is inevitable. One of the solution to this problem is by bring the plants into the house and create a garden or "Jungle" inside the house.
Creating plants that can be brought into the house, presents its own challenges, because the plant is at risk of death, due to lack of sunlight and water. Moreover, today's urbanites have short time to taking care the plants. The story background, makes Emillie Garden present to offers several green living solutions. One of EG solution to overcomes this problem is by adopting a planting technique from Japan, namely Kokedama, which has been adapted to the climate and weather in Indonesia. We created it since beginning of 2016. Currently Kokedama has been well received by the people in Indonesia.
In every design we make, we are committed to always focus on Sustainable Green Development, not only to use the nature but we also want to sharing the knowledge of how to keep it to be enjoyed by future generations. There are several services that we provide, among others:
Green product (Indoor Plants, Outdoor Plants, Stuffs & Green goods)
Green Project (Interior & Landscape Design Consultant & Green Souvenir)
Green Blog (Green Living, Green Architecture, Green Tourism)
Hopefully, the presence of Emillie Garden can contribute and inspire all of us to start the green living from the smallest thing in order to support the balance of life.
                                                                                            GREEN UP YOUR LIFE !!
Nelza Yesaya Hehamahua
(Creative Director)
Nelza
Creative Director & Landscape Architect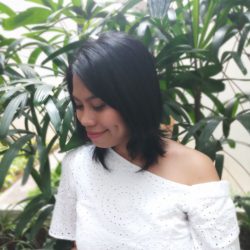 Candra
Event Decorator &
Landscape Architect
Lia
Architect &
Interior Designer
Gadis
Flower Arrangement &
Landscape Architect
Mia
Event Coordinator &
Event Marketing
Deli
Marketing
Communication
Wiwik
Marketing
Communication